In summer, we all dream of continuous vacation. Who wouldn't like being at the beach or in the countryside all summer, wearing just a bathing suit and comfortable flip flops? Unfortunately, we can't all afford to do that. Most of us still have to go to the office for eight hours a day, and only afterwards do we have some of that well-deserved free time.
To help you with your fashion choices for when it's hot outside, we put together a trendy outfit that you can wear to work, but which you won't be embarrassed to wear when you meet your friends for happy hour after that. And be sure to check out one of the most important summer accessories: sunglasses at GlassesOnWeb.com.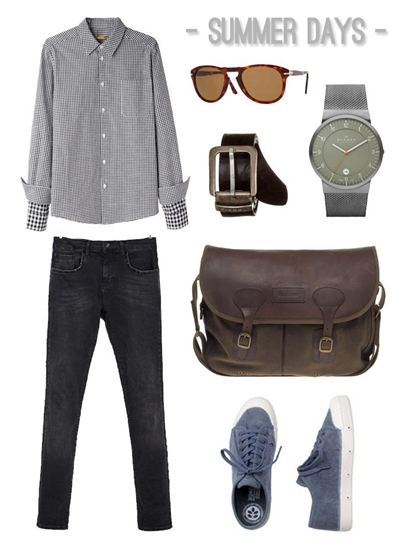 The key to a relaxed summer look is a good shirt: the fabric should be light and breathable, without, of course, being see-through. Roll up its sleeves, and pick a classic pattern such a gingham, checks or stripes. In the lower half just opt for a jean cut that flatters your silhouette, and go for whichever color you prefer. Canvas sneakers will allow your feet to breathe, without showing any skin, and a pair of good quality sunglasses (in this case Persol Sunglasses) will protect you against UV rays and bright lights. Leather works best for belts and bags, the latter being great for carrying your essentials. Don't forget a metallic watch to complete the look!
Daria P. wrote this guest post for IamRonel.com. She is a regular contributor to both GlassesOnWeb.com and CelebritySunglassesWatcher.com