So you've set a date, and you're getting married – how exciting! If you plan it right, your wedding day will be one of the best and most memorable days of your life. There's a lot to do when it comes to planning a wedding, from picking your venue to choosing the perfect bridesmaid's dresses. With so much to do, it's easy to forget the important things, like choosing the perfect wedding bands.
When it comes to picking your wedding rings and jewellery, it's easy to think that it's not something that will take long to do. However, if you want to pick bands that look stylish, will last for years and are suitable for both of you, you need to take your time selecting them. There's a lot more to picking wedding bands than meets the eye and it's important to realize that.
To help you select the perfect bands for you and your significant other, I've put together a few tips. These are all things that I found helpful when selecting my own wedding bands. Take these tips on board and I guarantee you, you'll find the perfect rings.
Set a budget
Unless you want an argument at the ring store, it's a good idea to set a budget before you start ring shopping. Sit down and discuss how much of your wedding budget you think it would be wise to spend on the rings. Even if your budget is small, don't panic – there are lovely rings for every price range. There is no point arguing with your partner over how much you can spend; it 's best to agree on an amount and stick to it.
Talk about what you want
Once you've got your budget sorted, the next step is to talk with your partner about what you want your wedding bands to be like. Is there a certain metal you like? Do you have a design style in mind? Do you want your band to match your engagement ring? These are all things that you need to think about and discuss with your partner. It's important that you both share what styles of rings you want so that you have an idea of the best styles to look for. Have a browse online at a range of rings, like these Tacori wedding ring designs, to get an idea of what styles you both like. Oh and don't forget to decide whether you want an engraving inside.
If you don't agree, compromise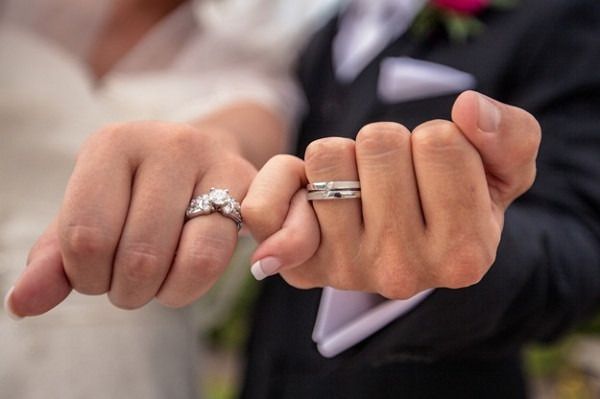 If you and your beau can't agree on an aspect of the wedding bands, don't fight, agree to compromise. While both your rings are meant to be the same, they don't have to be. The truth is that different people have different tastes, and that's okay. If you both want rings that are the same but have different tastes, find a way to combine them. For instance, if he loves white gold but you love yellow gold, perhaps you could find a ring design that combines the two? Don't argue, compromise.
There you have it, everything that you need to know about selecting your wedding rings.