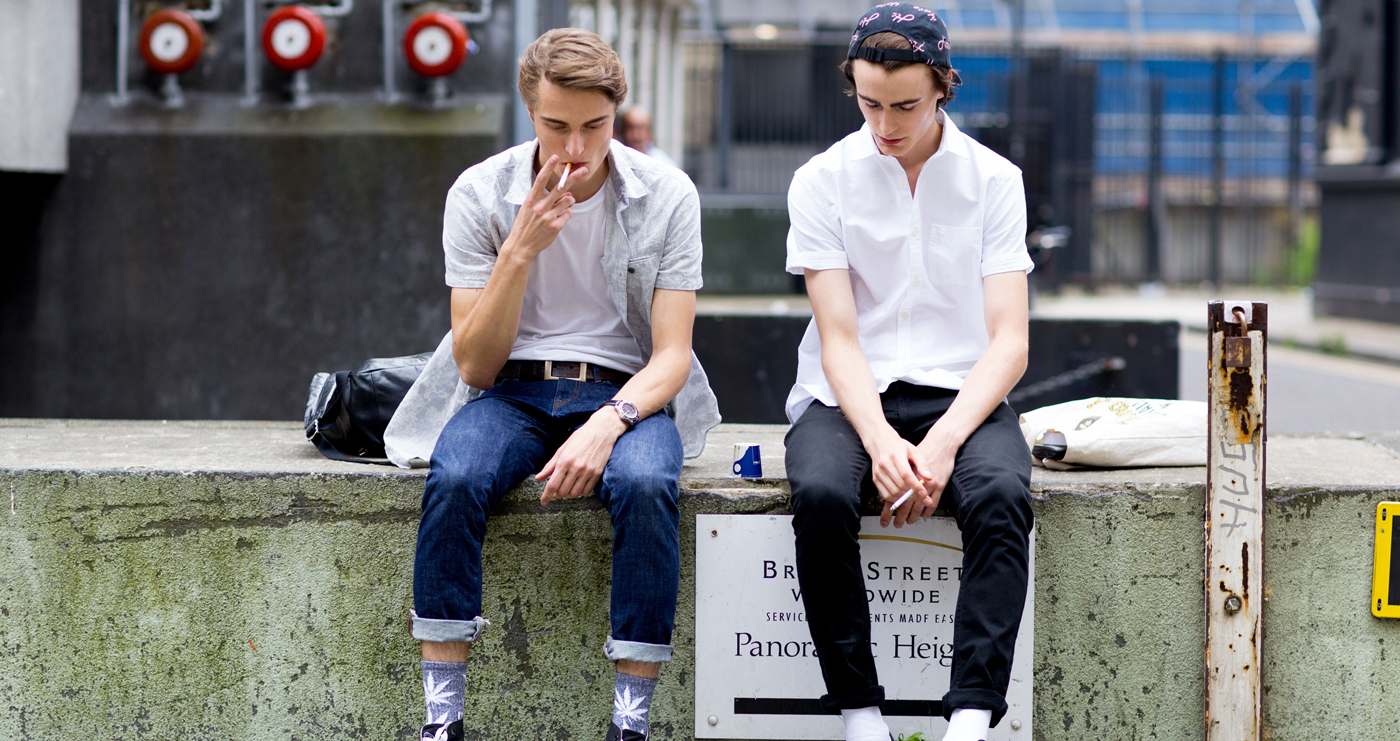 A lot of men would say that they don't follow fashion trends but if you look inside their closets you'd see pieces that're in vogue, along with the classics. Some of these trendy stuff may not be too wearable but others definitely are. No need to worry too much about what's cool and what's not this spring/summer because it's all figured out. You just have to follow the trends that'll suit you or those that're comfortable.
Menswear is going for the full-kit look this season, that is, tonal color matching. Think of tonal dressing as spring/summer's answer to all-black everything but way better since there're more choices. Tonal dressing works for almost any setting you can think of. You can start with colors that you're already well-stocked with like gray or blue. There's also lighter neutrals. Keep in mind though that you should only be wearing three tonal items in one outfit.
The vertical stripe is officially menswear's new go-to pattern. It's seen on almost any type of clothing like jackets and coats at the different global fashion weeks. It should, however, be subtle or else it'll look comical. The size of the stripes should be straight and narrow and there should only be one vertically striped piece at a time.
Another trend is the dad denim which is leg-friendly, light wash, loose fit, straight up and down, and easygoing. Not only is it comfortable, it also doesn't make you look like you're trying too hard. Wear cropped designs or pinroll your jeans and match with T-shirts, pastel loose-fitting shirts, Chelsea boots, and trainers.
Side-stripe trousers are likewise trendy. Evidence of this is its presence in the catwalk of different luxury designers' fashion shows. The key to making this tricky trend work without looking like an athlete is balance. You can wear trainers but make sure to add a knitted piece or a slim-fit shirt.
There's also the comeback of tropical print shirts. Again, this should be worn carefully. Seek out designs in pared-back colour palettes and match with dark tailored chinos or jeans.
Wearing checks is also a must. The best way to make checks work for you is to try larger or more complex motifs on outerwear, knitwear, and trousers. For the outfit to really look good, check yourself and make sure that the rest of your outfit is toned down or simple.
Anoraks and windbreakers are also in vogue this season. They come colour-blocked, in pastels or dark and moody shades. You can style them any which way you want. Throw one on over jeans, tailored trousers, shirts, knits, trainers, or Chelsea boots.
You can shop for all these stylish pieces at Terraces Menswear. Its flagship store opened in 2001 in the Stoke-on-Trent City Centre (Hanley). Their ever-expanding list of brands represents the best in classic and casual clothing from modern independent British brands to internationally recognized labels. Terraces clothing are of utmost quality and sold at competitive prices for both men and boys. They have Clothing (Polos – short sleeves, shirts, shorts, sweats, T-shirts, jackets and coats, jeans and trousers etc.); Footwear (Boat Shoes, Boots, Sandals, Shoes, Trainers, Plimsolls); and Accessories (Bags, Belts, Gloves, Hats, Wallets, Underwear etc.) from brands like Ellesse Clothing (https://www.terracesmenswear.co.uk/categories/Mens/Ellesse/), Armani, Boss, Fred Perry, Lacoste, Sergio Tacchini, Fila Vintage and a lot more.
Terraces Menswear ships all over UK and in some countries at low delivery fees. For orders over £50, delivery is free (UK Inland Addresses) within 4-5 working days. Items can be returned by filling out the returns form under certain circumstances. Any costs incurred in returning products are the responsibility of the customer. Payments include Paypal, Visa, Mastercard, and Sage Pay.