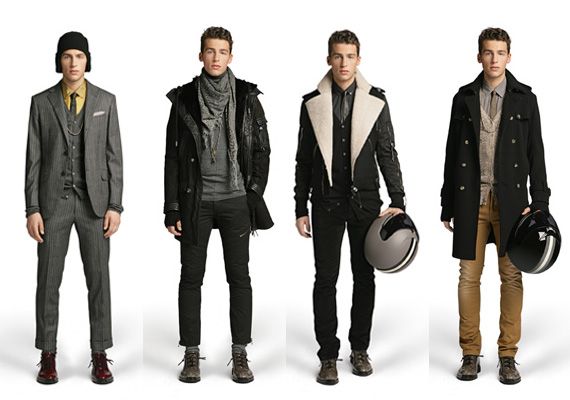 This season fall runways of Ralph Lauren, Michael Kors and Paul Smith are sopping with menswear-inspired look. Tailored trousers, crewneck loose-knit sweaters, button-down shirts, blazers and blouses is the pick in this falls' fashion limelight. Giving the bold and tomboyish twist to women wear, when teamed with right beauty products from Olay, it makes the women look sophisticated and classic. This look is sure to flatter all body types, shapes and sizes. Read below to find more about 5 must try menswear-inspired look this season:
Pinstripe trousers: It is a great idea to team-up grey tailored pinstripe trousers with short-sleeves front-button blouse or snug black sweater. Don't forget to adorn your heeled loafers. Prefer flattering silhouette that are slim through thighs and wide at the cuffs. This versatile menswear makes you look elegant.
Front-zip poncho: Barter the classic cardigan for long sleeve front-zip poncho menswear-inspired sweater. You need not buy it, just sneak it from your boyfriend's closet. Try muted plaid with front slant pockets for a cozy look.
Herringbone jacket: No menswear-inspired look is complete without a blazer. After a careful study and research a perfect blazer style for women has been laid down. The lean and long silhouette that is nipped-in at waist is perfect for a flattering look. For the multi-purpose fall layer prefer the classic cut. You need to pick the hues very intelligently. Popular seasonal hues to choose from are pale green, orange, blue and charcoal.
Lace-up brogues: Hit the floor with well crafted leather lace-up brogue boots. These boots allow you to take-on the urban jungle bravely and let you walk with ease from office to coffee shop. The brogues are enough to give a masculine touch to whatever you wear. You can pair these brogues with chunky knit tights to floral flocks to slim-fit trousers to ruffle-front blouses.
Classic shirt: If you want to try menswear-inspired look this season then classic button-down shirt is a must pick. Pick the classic shirt with slim stripes in wine-strained red and white, white collar shirt and pleat in the back. For standard office attire team-up classic shirt with pencil skirt or tailored trousers.
These 5 must try menswear-inspired look this season are sure to make you look ravishing and lend a different professional aura.
Christina Lyttle is a fashion expert with five years of experience under her belt. In her free time, she loves teaming different types of costume wigs with various womens costumes designed by her.