Finding the right footwear is very important whether it is footwear for leisure or work purposes. The feet take on a lot of heavy work and stress that not a lot of people are always consciously aware of everyday. The right footwear will not only ensure the comfort of your feet but also its safety and protection.
If you are looking for the right footwear for work purposes, you will find a wide selection of work boots, steel toe boots, and other types of work shoes from WorkingPerson.com. Below are some of the usual options that are available to you if you are buying work boots from WorkingPerson.com.
Gender. Work boots are often designed specifically for men or for women. Still, there are a few work boots that are designed for use of either gender. While these unisex work boots are good if you are buying for general use of employees, buying a pair designed for your specific gender is better if it is for your own personal use.
Category. There are numerous categories when it comes to work boots. The most common types are the 6-inch boots that are comfortable enough to use even outside of work and the cowboy boots which are used often enough for casual use. Aside from these, WorkingPerson.com also offers insulated boots, logger boots, wedge boots, hiking boots, motorcycle boots, and many more.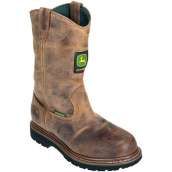 Brand. WorkingPerson.com offers almost any brand of work boots that you can find anywhere. Among the work boot brands that the site offers are Chippewa, Danner, Wolverine, Carolina, Caterpillar, Ariat, Double-H, Georgia, and John Deere, among others.
Material. The wide selection of work boots available from WorkingPerson.com is available in various materials. But work boots are often defined by three types of sole materials – leather, polyurethane, and rubber. Rubber is the most popular choice when it comes to the preferred material for work boot soles.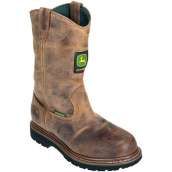 Purpose. Most work boots are specifically designed for primary particular applications or uses. Among the options when choosing a pair of work boots based on its purpose are for agriculture, construction, military or police, fire fighting, hiking, and many more. There are also work boots designed for general purpose if you want a more flexible type of work boots. Some work boots from WorkingPerson.com come with steel toes and others without.
In addition to footwear, WorkingPerson.com also offers work wear from brands such as Wrangler, Dickies, John Deere, Lee, Wolverine, Hanes, Under Armour, Carhartt, Arborwear, and Bulwark, among others. Other products that you can find at the website are outerwear, accessories, corporate apparel, and even kids clothing and uniforms.
Aside from the excellent product selections that you will enjoy from WorkingPerson.com, you will also appreciate the complete shopping experience that the site provides. You can rely on free shipping for orders of $49 or more, free returns on product exchanges, and a guarantee that you will only find the best prices on WorkingPerson.com for similar products from other websites.