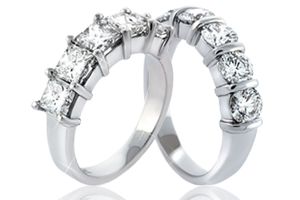 A woman considers her engagement day as one of the happiest days of her life. This is when the man of her dreams, the man she loves the most in the world, is going to ask her to spend the rest of her life with him. This very memorable occasion is made even more memorable with a sparkling, stunning engagement ring. Every engagement ring is unique and if you ask a newly engaged woman she would definitely say that her engagement ring is the most beautiful there is in the world. No matter what style it is. Be it simple or intricate.
If you belong to the elite just like celebrities and other rich and famous persons, most probably you'd go for designer engagement rings. If you have a lot of money, you might as well give it your all. But there are designer engagement rings that are not as expensive and quite surprisingly are affordable. Those made of gold or sterling are naturally cheaper than those with diamonds and other precious stones. Whatever the case may be, choose the engagement ring that suits your personality. Something that you will be proud to show to your grand children.
Undoubtedly, Cartier designer rings is the leading manufacturer of engagement rings. It has been making engagement rings for the longest time. The classic solitaire ring is what comes to mind when I think of an engagement ring. It's simple but elegant at the same time. It can be worn anytime, anywhere. Because Cartier is a luxury brand, it only uses high quality diamonds. Cartier is the brand trusted by celebrities and the royalty. They have a variety of designs to choose from ranging from the simple to the more intricately designed.
Tacori engagement rings are also popular nowadays. First established in 1969 by Haig Tacorian, the family business expanded and became more famous as years passed by. Tacori engagement rings have different styles that range from the simple to the more intricately designed. A popular design is that of a center diamond with pave set diamonds around it. Another Tacori engagement ring design is the criss-crossed bands with a center diamond.
Let's not concentrate on engagement rings alone. What should be given equal importance is the wedding dress. It also has to be stunning and again should fit the bride's personality. If you have a big budget, you can go for designer wedding dresses. Choose from the designs of Vera Wang or Monique Lhuillier. These designers are very popular nowadays and most celebrities hire them for that all too important altar date. People are always curious about the wedding dresses of celebrities as well as their engagement rings. Celebrity engagement rings are all stunningly beautiful and pricey. Some even going for millions of dollars.
All types of Engagement Rings are can be found on this site www.designer-engagementrings.org