Streetwear is meant to look effortlessly cool, like something you could put together off the floor but still somehow managed to come out looking sharp. One brand who seem to have channelled the true essence of streetwear is Voi, who are a designer brand that concentrate their efforts on creating jeans, chinos shirts and polo shirts that can be combined creatively with minimum styling. Voi clothes can be found at scotts menswear online, and some of the picks of this season include:
This pair of canvas mid top plimsolls in black feature the small embroidered Voi brand logo on the and a grey gold and black Voi Jeans branding on the tongue. They've got cushioned heel support too for added comfort.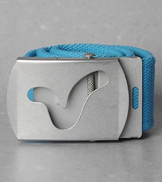 Durable and versatile, this Voi belt is perfect for keeping your jeans at just the right level and comes in two sizes. At £15.00 it's a bit of a blue bargain.
These Otsu Raw Jeans from Voi are a solid wardrobe staple and reasonably priced at £65.00. As well as offering comfort and the versatility of dark denim, they feature unusual twisted seams that bend around knee to create a 3D effect and a low crotch.