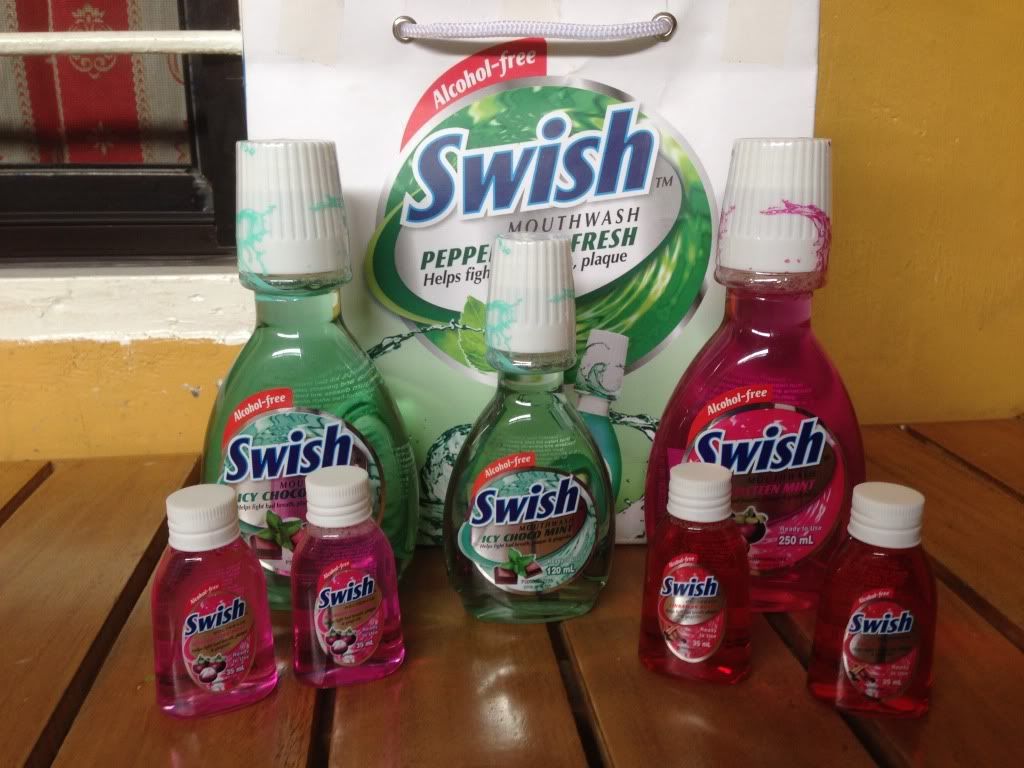 I'm happy to have received a paper bag full of Swish mouthwash bottles the other day for product review. I'm an avid user of Swish, which is a quality product of Unilab, and the package arrived just in time since I'm almost out of mouthwash. Using mouthwash should be a habit along with brushing and flossing and it shouldn't be done only during special occasions like Valentine's Day. People should always bring a bottle of Swish wherever they go and the 35 ml. bottle is perfect for that, for a long-lasting minty fresh breath that lasts all day.
I actually used another brand before I discovered Swish. But the moment I tried it, I've never used the other brand again. Aside from the fact that it's more affordable, using Swish has so many other benefits. It's ready to use, no need to add water. You can gargle for up to 30 seconds without flinching because it doesn't have that burning sensation because it's alcohol-free. Furthermore, Swish has Surefresh Technology that helps kill bad breath-causing bacteria and prevents plaque and tartar build-up, cavities, and gum disease.
Swish comes in five flavors namely Mangosteen Mint, Cinnamon Blast, Arctic Chill, Icy Choco Mint, and Peppermint Fresh. I got the Icy Choco Mint (green) and Mangosteen Mint (pink) in 250 ml. bottles, Icy Choco Mint in 120 ml., 2 bottles of Cinnamon Blast (red) in 35 ml., and Mangosteen Mint in 35 ml. My personal favorite is Mangosteen Mint because of the exciting coolness it brings inside my mouth. For more information about Swish mouthwash please visit their Facebook page (https://www.facebook.com/SwishPhilippines).