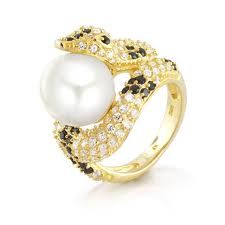 Getting married to the love of your life is probably one of the happiest days in a person's life. It's something that you won't ever forget as long as you live. A wedding band symbolizes not only a couple's lifetime commitment to each other but also represents the love that each person feels for one another. Since the wedding band is so important in a wedding ceremony, couples should choose which band to buy with utmost care. They should take their time in picking what they think suits their respective personalities the most and be sure that it's something that they won't regret ever buying.
Among the most commonly used wedding rings are white gold wedding bands. It's a shiny white precious metal whose value is lower than yellow gold but is mostly preferred by couples because it looks more elegant, modern, and chic. Yellow gold wedding bands are deemed too old fashioned and grand by some people so it doesn't look flattering. White gold bands are also better because it has a good appraisal or market value and it looks very clean and sharp. For people who are on a budget and can't afford platinum bands, this is the best choice because it's cheaper.
White gold wedding rings are quite versatile. It's actually up to the couple what kind of style they would like to do with it. If you're the type who likes things to be simple, you can have a plain wedding band. You can also have your names engraved inside the wedding bands. For people who are more extravagant and want a design that is quite intricate, there are two toned white bands and those with diamonds and other precious stones engraved in it. White gold wedding bands can also be mixed with bronze and gold for a tri-color look.
Choosing the perfect wedding ring or having one made isn't that easy. Couples should consider things like having the bands fitted for a perfect fit and deciding together what kind of design they want. Probably the most important aspect is the budget. You can't have a ring that's overly expensive if you don't have the money to pay for it. Also do a research first on the best jewelers in town.
Also, check out the best wedding cake of the week where you purchased your wedding plan services because they might have this awesome cakes to offer..