Summer is almost here, which means that a lot of us are starting to wonder about what to wear over the hottest months of the year. Summer style can often either go way over the top – Hawaiian shirts, anyone? – but equally, no one wants to be the guy sweating it out in his usual jeans and button down shirt. Here are some tips on what you can wear to both look and feel cool this summer…
Shorts Are Just Fine
No matter what you've heard about shorts being the worst thing in the world, they're actually just fine – so long as you go for the right ones. Cargo shorts are an absolute no-go at all times – they look good on no one, and they have a distinctly small town vibe that you might be trying to avoid. Jean shorts – or 'jorts', for those in the know – aren't as bad as some people might make out – instead of going for baggy cut offs, try slightly longer shorts that hit just above the knee and that fit you we'll. Finally, well cut linen shorts are something that suit almost all men. If your shorts fit you well, you're golden.
Image source
Use Accessories
It can be hard to know how to stay style conscious over the summer. When you look at your piles of t-shirts and shorts it can be hard to know how to make them look good when you can't add stylish jackets or scarves. If that's the case with you, it's time to get inventive – invest in a new watch from a site like ShopWorn to add a little effortless style to your appearance. You can also figure out how to use your footwear to your advantage. In casual situations, go for low top sneakers (with socks, so you don't get any smelly feet problems, but pushed down so they aren't stretching all the way up your calves like an awkward dad on vacation). Sandals are okay, so long as it's really hot outside, you aren't wearing flip-flops, and they aren't hiking sandals. Good quality leather (with no socks) works well for most guys.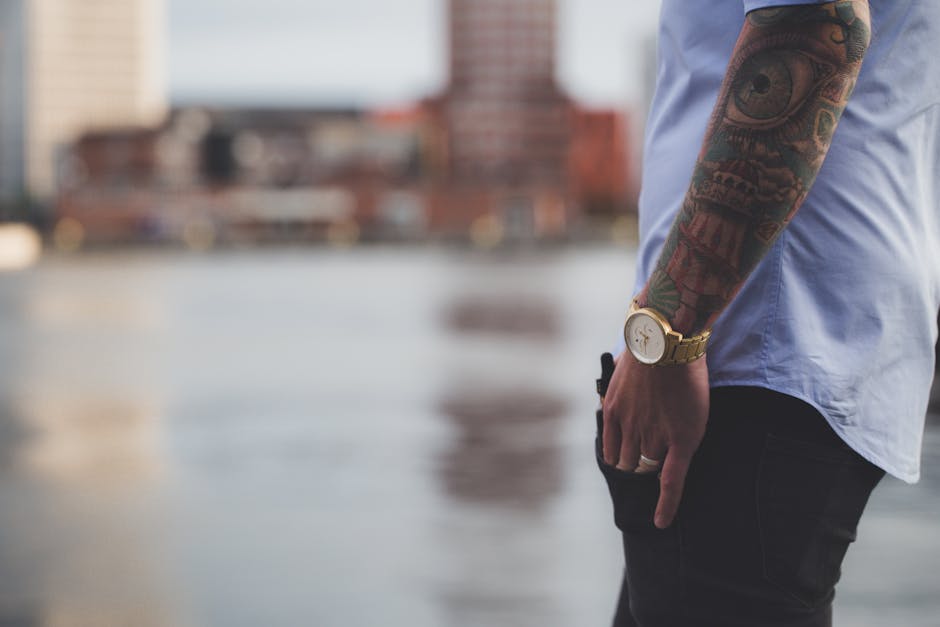 Image source
Go For Breathable Fabrics
You might not believe this is the case, but a lot of the time in order to stay cool, you should cover up more. This will help to protect your skin from the sun, and if you end up getting a little sweaty if you're running around in the heat all day, then the clothes will help you feel cooler and less clammy by wicking the moisture off your skin. Make sure that you wear breathable fabrics like cotton – you'll feel much cooler than if you wear more artificial materials.
Image source
Make Sure You Use Antiperspirant
Finally, it's important to make sure you smell good all year round. Make sure that your deodorant is also an antiperspirant, and don't start using cologne to attempt to cover up any faintly sweaty smell – there's nothing worse than too much artificial fragrance on top of the smell of sweat. Reapply a scent-free deodorant at lunchtime and you'll be set for the day.