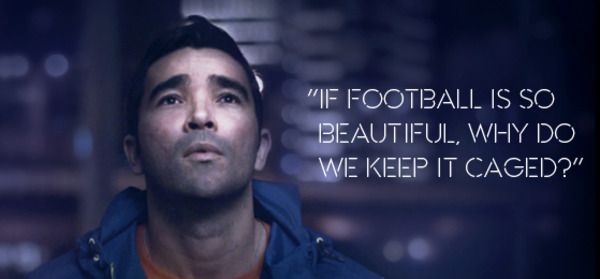 There is no greater feeling than being able to do something you are passionate about. It really does not matter what it is, either it be a hobby or a career that you simply cannot live without. But because of the rigors of everyday life, people sometimes forget to enjoy these things and instead go about life living like robots. I am no different from these people. There are things that I once loved doing that I do not get to do anymore as much as I want to because of my busy schedule. But I have realized that a life without fun and passion is a life wasted.
This message is conveyed in Tiger Beer's latest campaign, Tiger Street Football 2014. They have made it more understandable through a short but inspiring video featuring the former Barcelona, Porto, and Chelsea midfielder Anderson Luís de Souza, more popularly known as Deco. This retired Brazilian-born Portuguese professional footballer is one of the few players who won the UEFA Champions League with two different clubs – FC Porto in 2004 and FC Barcelona in 2006. In the video, Deco is seen strolling in an empty stadium, then the stadium suddenly explodes. Towards the end, he is seen happily playing football in the street with a group of men. He describes what a beautiful game football is but he says that it has become too mechanically played and monotonous. Instead of playing with their hearts, players instead play with their heads. He then wonders why if football is so beautiful, then why do people keep it caged? It should be free and should be played anywhere even on the streets.
Tiger Beer, one of the leading contemporary beer brands in the world enjoyed in over 75 countries including Europe, USA, Latin America, Australia and the Middle East, seeks to uncage and set football free (#uncagefootball) and make the game better, breaking the boundaries around it through Tiger Street Football 2014. Deco invites all football fans to share their views on what they love or hate about football by July 28, 2014. They can likewise suggest new rules for the game by visiting the Tiger Uncaged Football Website. Fans from Singapore, Australia, and Cambodia with the best suggestions will win a trip to Barcelona for two and meet Deco in person. Fans can also redeem smaller prizes by completing activities on the website.
Help with this campaign by tweeting and sharing the video on the Tiger Twitter page using #uncagefootball. Stay updated with the latest information about Tiger Beer by liking their Tiger Facebook page and subscribe to the Tiger Youtube channel to view all their campaigns.
Sponsored By: Tiger Beer