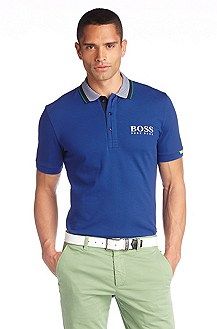 For a man to truly feel confident, it is not enough to just be smart and good looking. He should also have a great personality and a nice fashion sense. More men nowadays are becoming more involved with fashion and that's a far cry from many years ago. There are benefits to dressing up in style no matter where you are or what the occasion is. A stylish man is more likely to get noticed than a drab one and this is important in terms of commanding presence in your place of work or even if you are just casually hanging out with friends.
There are certainly many online stores that can help you with looking your best and one of them is Tessuti. In business for more than two decades, they started off as a store selling continental designer men's clothes but soon evolved into one of UK's designer super stores expanding their products and services to women and children. Among the labels they have are Armani Jeans, Belstaff, Barbour Womens, Billionaire Boys Club, Lacoste, Alexander McQueen, Paul Smith London, Polo Ralph Lauren, Versace Collection, New Balance etc. They also have the French label Moncler. Better known for their coats and jackets, they have fashionable looking Moncler polos as well. I browsed through the website and saw some really nice looking apparel from Hugo Boss too. I particularly liked the Hugo Boss polos, jeans, and shoes.
Among Tessuti's bestsellers are Hugo Boss Crew Neck, Lyle & Scott Chino Shorts, and Hugo Boss Cargo Shorts. Shoppers are guaranteed that all the items they are purchasing are genuine. For those who are worried about paying online, they use a 100% secured payment service provider called Sage Pay. As for deliveries, they offer free standard delivery on all orders. Deliveries can take 1-2 working days for orders in UK while orders from EU should be received within 5-7 working days.